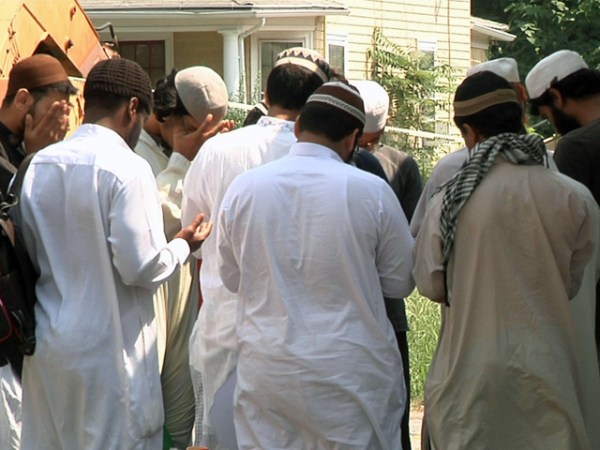 When peace is world conquest ~ the prayer is the same!!
According to the Christian group Connecticut Muslims are trying to censor the Gospel around mosques. I think a few government offices would like to remove protesters ~ but it seems CAIR wishes for the Connecticut Muslim community to be granted special privileges.
BRIDGEPORT, Conn., Aug. 12 /Christian Newswire/ -- In an unprecedented move, Muslim leaders in Connecticut are staging a press conference in Hartford this afternoon, to plead with legislators to censor the Gospel of Christ from the public forum around mosques.
Emotions are running high with the positioning of the Ground Zero Mosque. And also that the discussion around Islam is often one sided. For example, any criticism of Islam is deemed Islamophobic. To speak out against the systematic and state backed repression of Christians and others in the Islamic world ~ is deemed Islamophobic. In this way western Muslims can present the whole of the Islamic world as a fairy-tale of tolerance towards others ~ as who dares mention its reality is quickly labeled Islamophobic, a 'critic of Islam' or even 'hateful' and kind of put in an isolated place. But by negating Muslim action ~ are we a part of it?

Seen as Muslims are given so much in the west ~ we should ask them to speak out for the abolishment of the Dhimmi or second class status for non-Muslims in the Islamic world. To encourage Muslim nations to build and maintain more places of worship for non-Muslims and to allow for the freedom of religion in these countries. Groups like CAIR should go to the Muslim world as ambassadors for tolerance!!
When a dozen members of Texas-based Operation Save America demonstrated at a mosque in Bridgeport last week, it instilled fear in the local Muslim community.
Members of the mosque said the group was intimidating Muslims and asked for protection.
Representatives of the Texas group said they did nothing hateful and they plan to be back in Bridgeport, and at other Connecticut mosques, through the month.
The protest that caused concern happened outside the Masjid An-Noor mosque in Bridgeport on Friday.
With days to go before Ramadan began, Muslim leaders asked for protection from harassment during a time when many of worshippers come together for prayer at local mosques. .
"(The demonstration) was hateful, bigoted rhetoric, like Islam is a lie--murderers, sticking signs in front of kids who were leaving the mosque," Mongi Dhaouadi, executive director of the Connecticut office of the Council on American-Islamic Relations, said earlier this week.
Operation Save America representatives say they were trying to convert Muslims to Christianity, but did nothing hateful.
"It was complete order. We weren't harassing anybody, no children. Nobody said an unkind word to anybody the whole time we were there," John Payne, a local evangelist with Operation Save America, said.
Dhaouadi said earlier this week that there is an alternative to Operation Save America's protest, and that is just speaking with worshippers.
"Coming all the way from Texas just to yell at us and walk away is not going to solve anything. I think, if he came and knocked on the door, he would find Muslims in that area very welcoming and they'd be more than happy to sit down and talk with him," Dhaouadi said.
NBC Connecticut